You are here:
Standards in Sexuality Education
In their jointly developed framework Standards for Sexuality Education in Europe, the WHO Regional Office for Europe, the Federal Centre for Health Education (BZgA) and the members of the European Expert Group on Sexuality Education introduce the concept of holistic sexuality education and offer a concrete overview that shows which topics sexuality education in European countries should entail, ordered according to age groups.
The publication is targeted at policy makers as well as educational and health authorities and other specialists working in these fields. In the countries themselves they are meant to serve as a guideline for the introduction of a holistic sexuality education. They provide practical support and guidance for the elaboration of suitable curricula whilst also furnishing the arguments and rationale for the introduction of such a holistic sexuality education in each country.
The Standards are based on a positive interpretation of sexuality which is regarded as a natural part of human development and a central aspect of human being throughout life. Such topics as HIV/AIDS, unwanted pregnancies and sexual violence are embedded in an all-embracing education that focuses on the self-determination of the individual and people's responsibility for themselves and others. Holistic sexuality education gives children and young people unbiased, scientifically correct information on all aspects of sexuality and, at the same time, helps them to develop the skills to act upon this information. It hence prevents sexual ill health and:
supports children in getting aware of their own limits and in being able to communicate these,
supports children and young people to make self-determined and respectful choices and to communicate these, and
supports children and young people in developing respectful and tolerant attitudes, which are a prerequisite for an equitable and just society.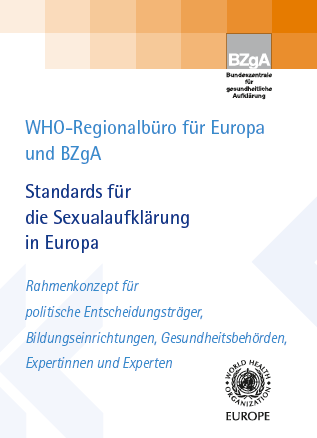 The Standards are available for download in the following languages:
The Standards – FAQs
The launch of the Standards triggered off a number of reactions from different countries. For easy reference we have clustered the most important questions and answers as follows, e.g.:
What is holistic sexuality education?
A broad concept of sexuality comprising its cognitive, social, emotional, interactive and physical aspects and not just the biological facts.
Why should sexuality education start already at an early age?
Because it is a life long process, which should start in early years as it will have an influence on the later attitude towards sexuality.