You are here:
Report on Sexuality Education in Europe and Central Asia
Sexuality Education in Europe and Central Asia
In the period 2016 - 2017 the Federal Centre for Health Education (BZgA) and the European Network of the International Planned Parenthood Federation (IPPF EN) initiated an extensive survey about the development and current status of sexuality education in Europe and Central Asia, covering 25 selected countries of the WHO European Region.
This new research fills a major knowledge gap about the information available about the status of sexuality education in the WHO European Region following the publication of two previous separate reports by BZgA and IPPF EN in 2006. The country profiles published by BZgA in 2006 can also be found on this website.
The present analysis covers countries from Western, Northern, Central and Eastern Europe as well as Central Asia and is thus fairly representative of the WHO European Region. It is based on an extensive questionnaire answered by experts of both governmental and non-governmental institutions.
The results of the research show that sexuality education has been in a state of rapid development since 2006 and that many changes have taken place in developing and implementing sexuality education in the countries studied.
The following aspects of sexuality education have been dealt with in the analysis:
the most recent laws, policies and strategies related to sexuality education;
the way sexuality education is organised and implemented;
sexuality education outside the formal school setting;
opposition to sexuality education;
good practices and initiatives;
youth-friendly SRH services;
survey data on the SRH of young people, including sexuality education.
Preliminary results of the assessment were presented on the occasion of an international conference hosted by BZgA in Berlin in May 2017.
Final research results have now been compiled in the following publications:

Comprehensive report on Sexuality Education in Europe and Central Asia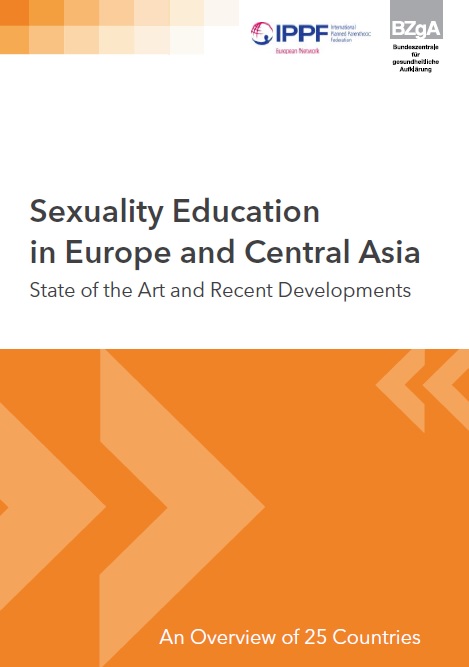 The report covers each of the 25 countries, presents a comparative European overview of the main results and formulates recommendations based on the core conclusions.
The comprehensive country report is available in English:
The Russian translation of the report will be released in late 2019.
Country factsheets of 25 countries of the WHO European Region
A series of 25 factsheets presenting summarised country profiles for each of the countries studied, in the form of a compact 6-pages folder is available in English.
Regional comparative overview
The regional overview presents a summary of key findings on the status of sexuality education for all 25 countries as well as main conclusions and recommendations.
The regional overview is available in English and Russian in the form of a compact 6-pages folder.
The regional overview is available in English and Russian: