The Federal Centre for Health Education (BZgA) has been a WHO Collaborating Centre for Sexual and Reproductive Health since 2003. The thematic focus lies on sexuality education in the WHO European region, a theme in which BZgA has many years of experience on the national as well as on the international level. As WHO Collaborating Centre it engages in the development of frameworks and materials for different target groups in the field of sexuality education, in the development of standards, in research and in the organisation of seminars and conferences for knowledge transfer and networking.
Article on Sexuality Education in Europe and Central Asia: Recent Developments and Current Status - now available via Open Access
This article on the main results of the latest assessment of the current state of sexuality education in the WHO European Region was written by Evert Ketting, Laura Brockschmidt, Ilona Renner, Lena Luyckfasseel, and Olena Ivanova and published in spring 2018 by Nova Science Publishers, Inc. under Chapter IV of the print publication "Sex Education. Global Perspectives, Effective Programs and Socio-Cultural Challenges". The chapter is entitled "Sexuality Education in Europe and Central Asia: recent developments and current status" and is now available for download via Open Access. The secure code to access this document is 389949.
The policy briefs on various subjects of sexuality education in Europe and Central Asia provide short, concise information at first glance to support policy makers and representatives. The European Expert Group on sexuality education has contributed to the creation of the policy briefs. [read more]
The framework "Standards for Sexuality Education in Europe" introduces the concept of holistic sexuality education and offers a concrete overview of topics sexuality education in European countries should entail, ordered according to age groups. [read more]
The website Zanzu offers a wealth of information on sexual and reproductive health and thus enables a high level of communication on sensitive matters – not only because of its multilinguality, but also because of the many illustrations and the text-to-speech function. [read more]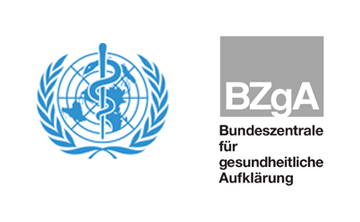 BZgA is one of 10 WHO Collaborating Centres in Germany. Institutions are nominated as WHO/ Europe Collaborating Centres by the WHO-Regional Office in Copenhagen (after having been confirmed by the WHO headquarters in Geneva).
The WHO Collaborating Centre for sexual and reproductive health is supported by the Federal Ministry of Health.